Traditional vs Implant Supported Dentures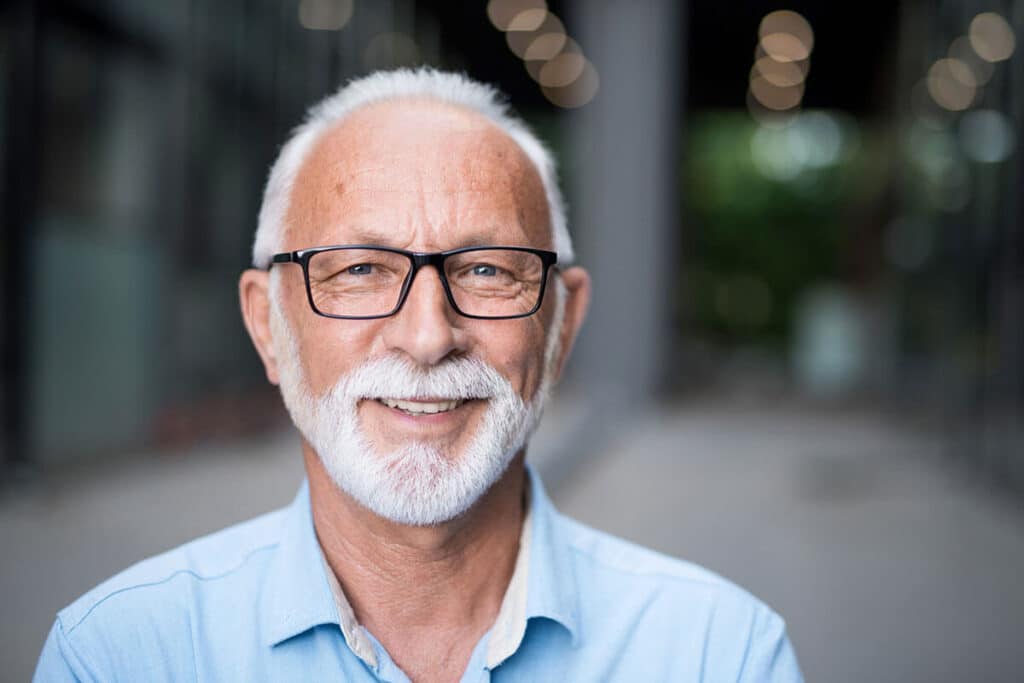 Are you in need of full mouth teeth replacement? A complete arch or row of artificial teeth is called a denture (also known as a prosthesis). There are two basic types of dentures: traditional and implant supported dentures. Both options have their pros and cons. If you're trying to decide which option would be better for you, consider this comparison.
Traditional Dentures
These are basically the same type of dentures that have been used for decades, just with advancements in design that have improved their fit and appearance. Traditional dentures attach to the gums via adhesives and suction. They are typically removed at night while you sleep and soaked in a cleaning solution.
Pros of Traditional Dentures
Removable for easy cleaning.

Traditional dentures are easy to remove, clean, and store. 

Cost effective.

When you need a full mouth replacement, traditional dentures are one of the most affordable options. 

Allow you to eat the foods you need for proper nutrition.

Traditional dentures are sturdy enough to allow you to eat the foods you need and love. 
Cons of Traditional Dentures
Can slip out of place.

Even with the best adhesives, traditional dentures can slip out of place when eating or talking. 

Require the purchase of adhesives.

You'll need to purchase denture adhesives for the duration of the time you wear traditional dentures, which will most likely be for the rest of your life. 

May irritate gums.

Dentures can pinch and irritate the gums and eventually cause damage.

Bone loss in the jaw can occur.

Because traditional dentures sit on top of the gums with no roots, bone loss of the jaw is likely to occur over time.
Implant Supported Dentures
As the name suggests, implant supported dentures attach to the jaw via a few dental implants. A dental implant is an artificial tooth root that is surgically placed in the jaw bone. A few implants will be placed in each jaw, between 2 and 6, depending on your needs. Dentures can then be permanently attached to the implants or can be removable by patient. This makes it a little easier for patients to clean the dentures.
Pros of Implant Supported Dentures
Sturdy hold.

With dental implants in the jaw bone acting as anchors, implant supported dentures will not slip out of place when eating or talking. 

Preserve jaw bone.

The implants fuse with the jaw bone, offering support and promoting bone health and density in the jaw. 

Function like natural teeth.

Implant supported dentures function as similarly to natural teeth as possible, aside from a full mouth of implants.
Cons of Implant Supported Dentures
More expensive than traditional dentures.

Getting dental implants placed is a more costly procedure than getting traditional dentures. 

More invasive.

Dental implants have to be surgically placed, meaning the procedure is more invasive and will require anesthesia. 

Longer procedure.

From start to finish, getting fitted for implant supported dentures will take longer than traditional dentures.
Choosing the Right Option for You
Implant supported dentures have many benefits over traditional dentures. Most dentists would recommend this option first, unless cost is your biggest priority. Talk to your dentist about your lifestyle and concerns so that they can help you determine the best option for you.
Oakdale Dental Associates Can Help You Restore Your Smile
If you need all or a significant amount of your teeth replaced, dentures may be the best option. Oakdale Dental Associates can restore your teeth using traditional or implant supported dentures. We specialize in a wide range of restorative dental procedures in Holyoke, MA. 
Call 413-536-1782 today to schedule a consultation or request an appointment. We look forward to restoring your smile for a lifetime.
Recent Posts
Contact Us
Oakdale Dental Associates
1820 Northampton Street
Holyoke, MA 01040
Monday | 8:00am - 5:00pm
Tuesday | 8:00am - 5:00pm
Wednesday | 8:00am - 5:00pm
Thursday | 8:00am - 5:00pm
Friday | 8:00am - 1:00pm
Saturday | Closed
Sunday | Closed