How Long Do Porcelain Veneers Last?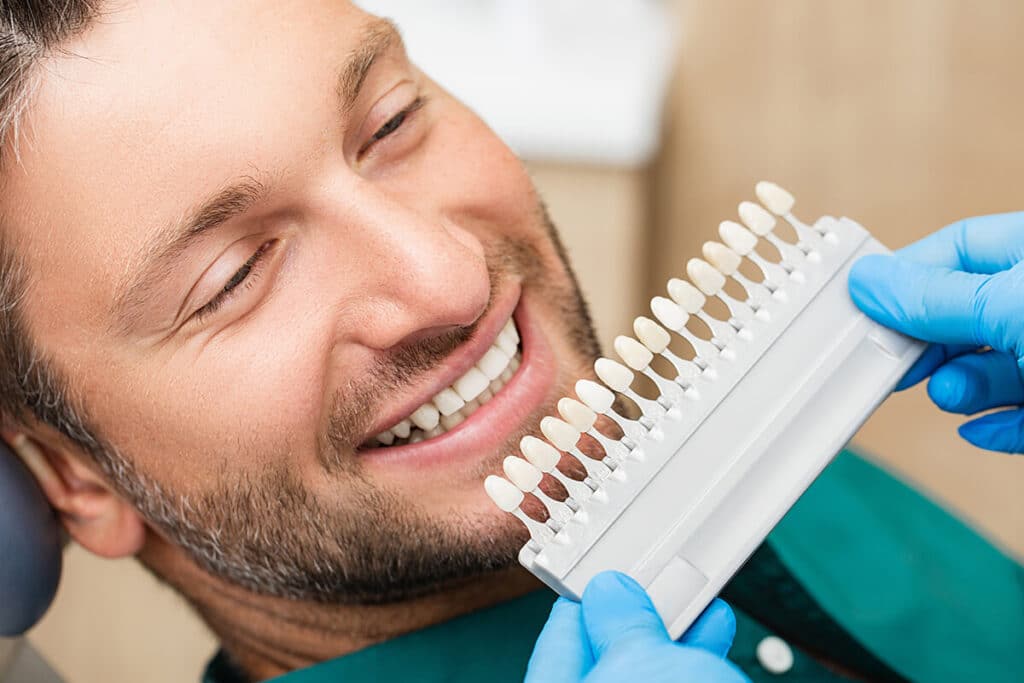 Your smile is powerful and you want it to look good. So, you do what everyone is doing these days and call your dentist to inquire about porcelain veneers. After all, they can turn even the most aesthetically flawed teeth into perfection. The question is, how long can you count on them for a beautiful smile? 
Let's take a look at how long porcelain veneers last. 
Porcelain Veneers: The Lifespan
Porcelain veneers are not designed to be temporary. They are custom-designed ceramic coverings made to fit your specific tooth. A tiny amount of enamel will be shaved down so that the veneers can be properly bonded to the tooth and blend in with the rest of your teeth without looking raised or out of place. 
While it cannot be said about all options of veneers, porcelain veneers are as strong - if not stronger - than the enamel on your tooth. And that means it is capable of handling everything you put in your mouth. Though, keep in mind, they are not indestructible and can still break much like a tooth. 
With that being said, you can already tell that the lifespan of porcelain veneers has to be rather lengthy. And, you are right. Many last at least 10 years. The key to having them last much longer is to properly care for them. Those who do will find that their porcelain veneers may last 15 to 20 years or more. 
Care for Longevity
If porcelain veneers rely on proper care for longevity, then it is incredibly important to know how to care for them. And since they are going to be semi-permanent residents in your mouth, you may need to step up your oral care regimen. 
Maintain proper oral hygiene. This means brushing and flossing at a minimum of twice each day. And rinsing your mouth with mouthwash. Keep in mind that there are certain techniques you will learn from your dentist to keep your porcelain veneers safe while brushing and flossing since doing so aggressively may cause damage to them. 
Use the right toothpaste. Just as you need to not brush or floss aggressively, you also want to make sure you are using a toothpaste that is suitable for veneers. So many on the market are highly abrasive and may cause damage. Ask your dentist for recommendations. 
Ditch bad habits and harmful foods. Certain things are bad for us, such as smoking. And not only can smoking cigarettes damage our overall health, it can also be terrible for our oral health, wreaking havoc in our mouths. 
Certain foods are bad for our teeth, too. For instance, chewing on ice or indulging in hard foods and hard candy can cause teeth to break or crack. 
Porcelain veneers can be impacted by all of these things, too, so let them go. 
Visit your dentist regularly. Finally, don't miss your regular dental visits. This is an opportunity to keep your mouth healthy and to address any problems early before they get worse. 
Learn More About Porcelain Veneers at Oakdale Dental Associates, P.C.
Porcelain veneers are a wonderful option for transforming a smile. If you are interested in learning more about them or how they can positively impact your life -- or if you are ready to get started - contact Oakdale Dental Associates, P.C. today! 
Call our office at 413-536-1782 or request an appointment online.
Recent Posts
Contact Us
Oakdale Dental Associates
1820 Northampton Street
Holyoke, MA 01040
Monday | 8:00am - 5:00pm
Tuesday | 8:00am - 5:00pm
Wednesday | 8:00am - 5:00pm
Thursday | 8:00am - 5:00pm
Friday | 8:00am - 1:00pm
Saturday | Closed
Sunday | Closed